Cell-Based Sensing
Microsystem Components
Sensors | Lidded Vials | Au Plating | Packaging
Sensors
Abshire's group has developed a suite of sensors for monitoring cells cultured on the chip surface in various ways. We fabricate MEMS structures over these, and do the packaging.
Contact Imager
Fluorescence Sensor
| | | |
| --- | --- | --- |
| | | This photodetector chip has low-noise, low-light active pixels. Our goal is to be able to image faint fluorescence, such as from single cells. See the section on integrated fluorescence sensing. |
Capacitance Sensor
| | | |
| --- | --- | --- |
| Healthy adherent cells stick closely to surface. One can use capacitance to sense the proximity of the cell, and thus to monitor cell viability. We are able to use capacitance sensors to track cells settling onto the surface when they are initially introduced, functioning spreading normally, and dying. | | |
Bioamplifier
| | | |
| --- | --- | --- |
| | | The bioamplifier chip detects the extracellular currents generated by electrically active cells, such as muscle cells and neurons. It filters and amplifies the signal before sending it off chip. |
Potentiostat
| | | |
| --- | --- | --- |
| | | This is not a sensor, but a circuit developed to drive electrochemical reactions on on-chip the electrodes (appearing silver-colored in the image). This has been used to control the actuation of PPy deposited on the working electrode, and will be used to control lid position. |
---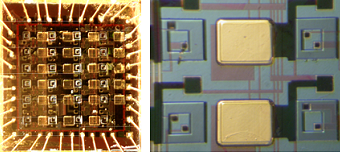 Methods for fabricating lidded vials on the tiny CMOS chips were developed by Yingkai Liu and continued by Marc Christophersen. Photographs of actual chip surfaces covered with vials and as-yet-unreleased lids are shown here, with an overview and a close-up. The circuitry can be seen as pink features under the MEMS structures. The lids are the gold-colored rectangles, the PPy on the hinges (and covering the leads) appears black, and the vials are transparent. Electrodes for recording action potentials are inside the vials.
Photos taken by Marc Christophersen.
| | | |
| --- | --- | --- |
| Figures of a lidded vial with the lid open and closed are shown here. A cell can be seen inside the open vial. The pink color of the fluid is from the neutral red cell viability dye. | | |
---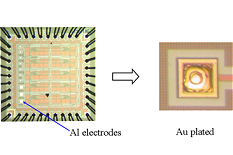 The CMOS chips arrive from the manufacturer with aluminum electrodes. Since Al is not biocompatible, it is covered with Au by electroless plating. The techniques we use were developed by Mario Urdaneta.
---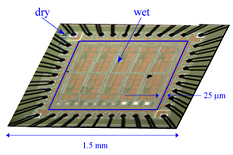 The challenges of packaging these chips are 1) the small distance between the bond pads, which must remain dry, and the chip surface, which must be exposed to the cells and the cell medium and 2) the bond wires rising by more than 100 mm above the chip surface.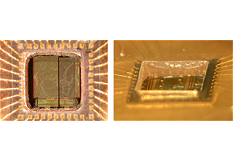 We are currently using Loctite 3440, a photopatternable adhesive, which can last for a couple of weeks in an incubator before failure. The figure shows overhead and oblique views. We are pursuing other packaging methods to improve the lifetime.
---